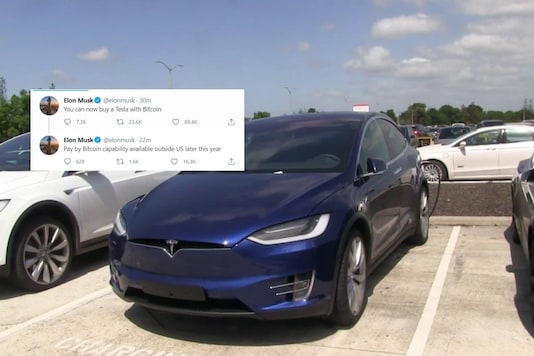 Screengrab of a Tesla from a YouTube video/Twitter/Elon Musk.
Elon Musk on Twitter announced that you can now buy a Tesla car for bitcoin. It's temporarily limited to the USA at the moment but will be available to other countries later this year.
Elon Musk on Twitter just announced that you can now buy a Tesla car with Bitcoin. Musk's announcement comes almost a month after Tesla said in a filing the decision was part of its broad investment policy as a company and was aimed at diversifying and maximizing its returns on cash. It said it had invested an aggregate $1.5 billion in bitcoin under the changed policy and could "acquire and hold digital assets from time to time or long-term". Bitcoin also surged more than 10% the day after to a record high of $43,625 after Tesla's disclosure. Bitcoin, which has set new record highs in recent months after a rollercoaster ride over the past decade, has also drawn support from major financial institutions this year. The world's biggest money manager Blackrock recently changed a handful of investment mandates to allow some of its funds to invest in the currency.
Musk's tweet on the development came with new additional inputs, for example – it is currently only limited to the US, but will open up to other countries soon.