Binance Coin (BNB) has grown to be one of the most valuable cryptocurrencies in the world. Most people who buy BNB do so for its past performance and gains, as well as the asset's affiliation with Binance.
BNB already showed its value as an investment, judging by this year's performance. While the BNB price has dropped like other assets, investors still have it on top of their watchlists as a buy option.
The crypto market is currently experiencing another bear run, and opportunistic investors have started to check for which assets are ripe for a purchase. Is BNB one such asset? Let's take a look.
BNB: Another Part of Binance's Dominance Strategy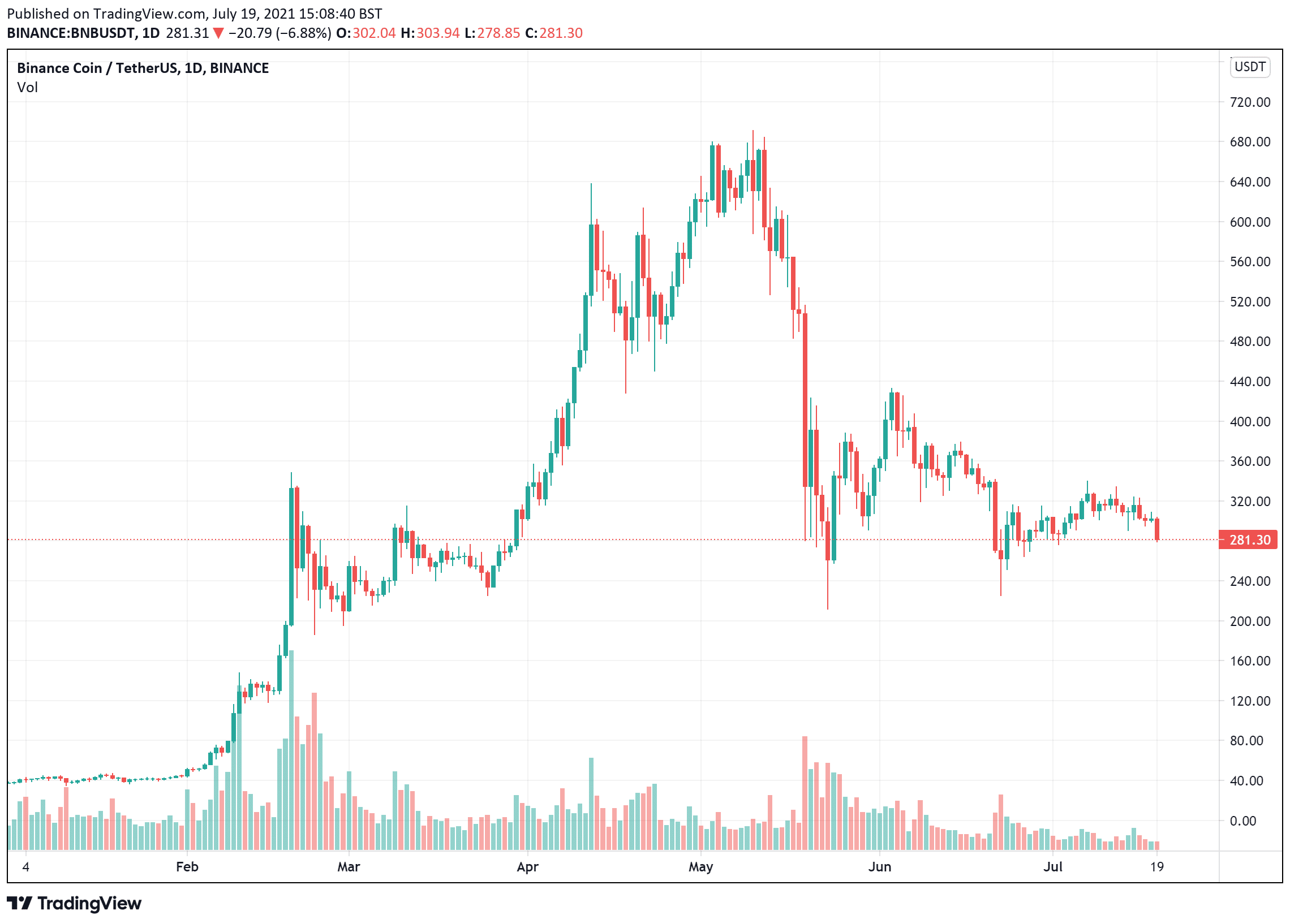 As we all know, BNB is the exchange token for Binance – the world's largest crypto exchange by trading volumes.
Binance has a hand in just about anything crypto-related, and it came as no surprise when the exchange announced the launch of its very own token in 2017.
BNB's Initial Coin Offering (ICO) took place that same year, with Binance selling 100 million BNB and raising $15 million. Most of that money went into improving the Binance ecosystem and helping with the company's marketing and branding.
Currently, BNB can be used for different purposes on the Binance exchange.
These include trading, investment, loans, credit card payments, and paying transaction fees on the platform. It isn't available on many exchanges, but that doesn't matter. Investors have trooped in to buy BNB, making it the most popular exchange token.
Several other exchanges have tried to launch their exchange tokens too. But, none has been able to eclipse what Binance is doing with BNB. With the exchange getting more popular, the BNB price has been rising steadily.
67% of all retail investor accounts lose money when trading CFDs with this provider
BNB: A Wild Journey Into 2020
2021 has been an incredible ride for Binance's exchange token. The BNB price started the year at $38.84, and it rose astronomically to hit an all-time high of $692.24 in May. The BNB price jumped for many reasons, but the bull market was definitely the most significant. Money flowed into all parts of the crypto market, and much of that was used to buy BNB.
At the same time, the asset's affiliation with Binance helped. Binance has widened its service range a great deal, and many of these are available to BNB holders.
So, it was the perfect asset to provide that mix of functionality and appeal. Many investors understand this, and they've swooped to buy BNB.
But, the market downturn eventually came and BNB was swept. The asset's price bottomed out at $212.43 in late May, marking a 69.3 percent drop from its all-time high.
While it has tried to regain its highs, the journey hasn't been so easy. June market another struggle period for cryptocurrencies, and BNB once again fell to $224.75 – this was after rising as high as $434.29 earlier in the month.
BNB: Technical and Fundamental Analysis
Currently, BNB is trading at $281.30 – down 7 percent in the last 24 hours and 13 percent in the last 7 days. While this isn't great, there are some positives to the asset's current position.
For one, BNB has a relative strength index (RSI) of 37.63, showing that it is underbought. However, the asset's 20-day moving average (MA) is holding at $306.04, meaning that BNB will need a significant push to cross that.
The BNB price might also suffer from some of Binance's current woes. The exchange has gotten into trouble with several regulators, including from Italy and the United Kingdom.
This isn't the first time that Binance will have tussles with watchdogs, but there's no denying that the timing could be better.
Any regulatory action on Binance will undoubtedly affect the BNB price, although an overly significant hit isn't expected.
Regardless, BNB seems to be in a strong position. It is far off from its all-time, meaning that there is a lot of upsides. Also, Binance's prominence in the market should carry the asset. Many investors buy BNB to be able to get access to the exchange and its features.
Buy Crypto at CedarFX, the World's #1 trading platform!